With all the censorship and snooping going on it's no surprise that more people are turning to using VPNs to get anonymous access to any website they want. A VPN allows you to safely bypass any kind of government censorship, geo-blocking (such as with Netflix), and they allow you to download and torrent without having to worry about being caught. The problem is that there are too many VPN choices out there and not all of them are created equal. PureVPN, also known as Pure VPN, is a solid choice for anyone concerned about their privacy and security. This PureVPN review looks into what makes it so great – as well as the minor flaws. There's no such thing as perfection after all.
Rating
When assessing a VPN it's important to consider the security, features, and speed. VPN ranks highly in all three of those factors, earning nothing less than a 4.5 in either one. Our overall rating for this VPN is a solid 4.8/5. There are some minor faults, but nothing that will prove a real problem.
Servers, Server Status Page
A VPN is only as good as their servers, and PureVPN certainly stands out in this regard. The VPN offers nothing but choice with over 790 servers across 141 countries. The bulk of these servers are located in the UK, the US, and Canada. Outside of those countries there are at least 2 servers in every other country in the list.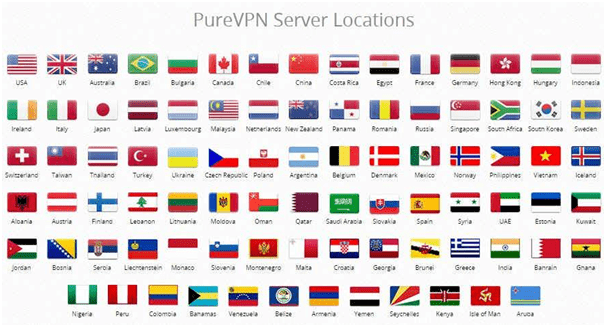 PureVPN clearly understands that their value comes from the massive choice of servers. The servers are spread smartly to give users the most anonymity, access, and security online. It also hosts servers in countries with the strictest censorship policies such as China, a country where internet freedom would be a true blessing.
The service hosts three such servers in China, a country where the government will ban and censor anything on the internet that they don't like, and there's not much they do like. PureVPN recently expanded their server choice across the rest of Asia, Europe, and Africa to make things easier for their users across the world.
Something that sets PureVPN apart when it comes to server choice is that they offer dedicated streaming servers. These are servers that offer privacy but still have the speed needed to stream content from websites such as YouTube effortlessly. These servers are also great for gaming, watching live sports, and other forms of entertainment.
Speed Test
Speed is an important part of choosing a VPN. Users can expect some slowdown when spoofing their IP address, but the less slowdown the better. We decided the best way to test the speed of PureVPN was to compare our internet speed before and after using one of their servers in the US and the UK.
We got a ping of 46ms, a download speed of 205.66mbps, and an upload speed of 4.67mbps in the US without accessing a PureVPN server. After switching on the VPN we had a ping of 10ms, a download speed of 39.90mbps, and an upload speed of 4.35mbps.
The ping speed was certainly improved and the upload speed remained about the same. That's always good to see. Unfortunately, the download speed came down quite a bit, which is the price one has to pay for the anonymity and accessibility of PureVPN.
Before connecting to a VPN in the UK we had a ping of 3ms, a download speed of 324.63mbps, and an upload speed of 4.74mbps. After connecting to PureVPN we had a ping of 0ms, a download speed of 85.51mbp, and an upload speed of 4.43mbps.
The results are fairly similar to what was seen with the US. The ping is the same – if not faster – and there's not much change in the upload speed either, but the download speed suffers significantly.
PureVPN manages to maintain upload speeds and that's great because the encryption on a VPN server is based heavily on upload speed. The download speeds are still good but with some tweaking here and there the speeds can be improved.
Compatibility
PureVPN is compatible with just about every device, some of which have their own dedicated custom apps. There is a custom app available for Windows, Mac, Android, and iOS. As well as having a regular Android app, there's a custom app for use with Android TV and Amazon Fire. If that wasn't enough, there's also dedicated browser extensions for Firefox and Chrome, and a custom applet for use with Kido and DD-WRT. That's a lot!
The Android app is smart and clean and makes use of OpenVPN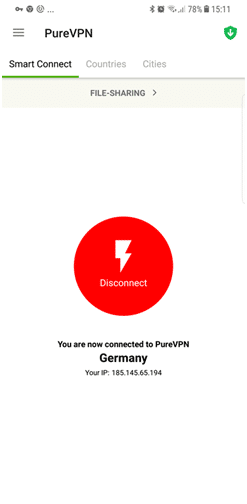 It has a surprising amount of features for an Android app. It comes with "Gravity", split tunneling, port scanning/selection, a kill switch, and secure Wi-Fi modes. The P2P protection on offer appears to be a simplified version of Ozone without the ability to customize filters.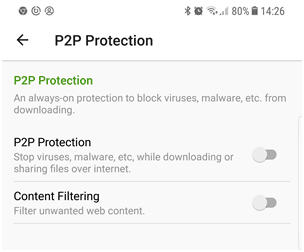 Outside of the VPN clients, desktop users have the option of installing separate add-ons for Firefox and Chrome. These extensions are great for spoofing your location within the browser without affecting your internet speed elsewhere, such as playing a game online. If you want complete privacy and anonymity though then it's best to stick to the desktop client.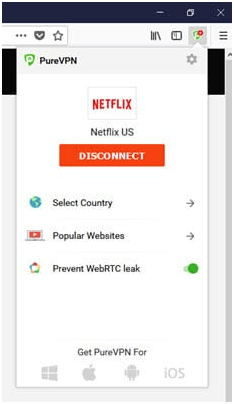 The add-ons work using WebRTC leak protection. We couldn't detect any leaks using the main client, but using these add-ons is the surest way to protect against them. That makes it worth installing the add-ons even if you rely on the main client as a proxy to protect you.
As well as choosing a specific location for the browser to work with, you can choose a specific streaming service to access, such as BBC iPlayer and US Netflix.
Protocols And Encryption
Another advantage of using Pure VPN is that it comes with lots of tunnelling protocols. PureVPN subscribers can enjoy PPTP, OpenVPN, SSTP, L2TP/IPsec, and a stealth VPN protocol. This allows them to keep their online activity safe from the prying eyes of an ISP and other snoopers. The best protocol for protecting online privacy is the OpenVPN protocol. That's why we recommend this protocol for maintaining anonymity and protection online.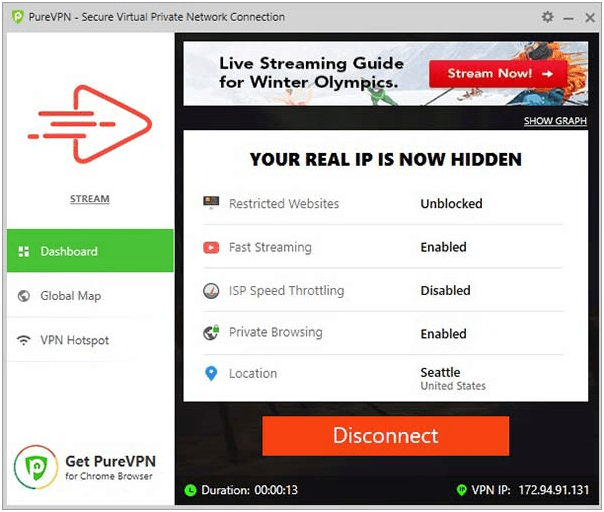 PureVPN is also remarkable as far as encryption goes. Thanks to military grade 256-bit encryption users are given next level online protection. This encryption level is included with every level of the pricing plan too. OpenVPN protocols also apply this high-grade protection by default. There's no need to worry about keeping your online activity private because of the powerful encryption of PureVPN.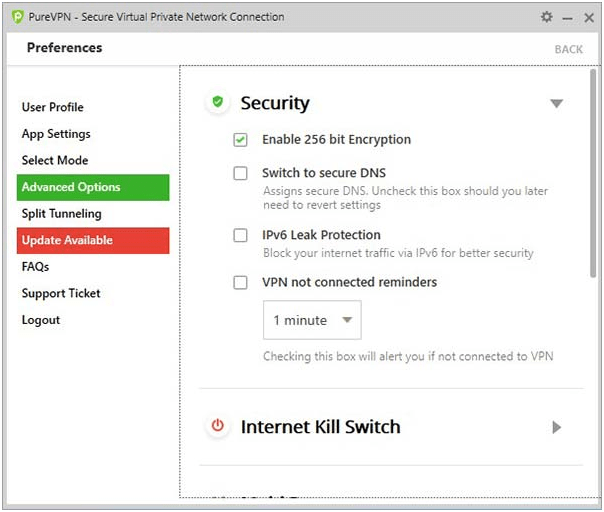 PureVPN And Netflix
Netflix and other streaming services have become a major reason for people to choose VPN services. They want to have access to the entire Netflix library, most of which is kept locked behind a US geo-block, meaning only users in the US have access to it. A VPN spoofs your location, making Netflix believe you are in the US and offer you unlimited access to all of this great content.
PureVPN claim that they have dedicated US servers designed to allow users to stream US Netflix effortless. The main one is the abcgo.pointtoserver.com server that can be accessed at any time without any problems. It's worth keeping in mind that you may experience some problems when trying to stream Netflix through PureVPN, or indeed any VPN. There was a time that Netflix would quietly allow users to do this but they have cracked down in recent years. It's rare to find a US Netflix VPN that works all of the time. Be prepared to try a few different servers before getting access. Don't forget that the browser extensions have built in features to connect to servers specifically for Netflix streaming as well, nor give those servers a try.
PureVPN Additional Services
We mentioned split tunneling earlier on in the review, so let's take a closer look at this feature now. Split tunneling can only be done if you have administrator rights with your system. After opening up the tab to start split tunneling, you'll have to enable it. PureVPN also has the option to permanently enable split tunneling with the "make permanent" checkbox. Select this and you'll never have to manually enable or disable split tunneling again.
There are two ways to use split tunneling once it has been activated. The first is allowing the client to automatically detect which apps on your computer are compatible with PureVPN tunneling. This is the simplest choice of course, as the service puts together a list of compatible apps for you.
Please keep in mind that the client detecting and listing an application doesn't mean that the apps are now covered by PureVPN. You will then need to click the button to launch that application to start them with split tunneling protection.
If PureVPN can't detect the application you want then there is an "Add an Application" button to the lower left corner of the screen that lets you manually add an app to the list and launch it with split tunneling enabled. Once again, having split tunneling permanently engaged means not having to deal with this.
Torrenting and downloading from P2P networks is the most common form of file sharing there is. Thousands of our favorite TV shows, movies, documentaries, games, and songs can be found through torrent sites. As tempting as torrenting is, it's wise to remember that there are some very strict anti-piracy laws. DMCA laws and copyright trolls have left torrenters facing heavy fines, with some pirates even finding themselves in jail.
Given how risky it is to download torrents without protecting yourself and your IP, PureVPN offers the simplest and safest solution for downloading and torrenting. The client offers one-click protection for torrenting providing users with the anonymity they need to safely download torrents without the risk of getting caught.
Some aspects of PureVPN make it ideal for torrenting. While we'll get into the main advantages and disadvantages later, it would be worth looking at these now:
Unlimited downloads with no bandwidth caps
Servers designed for L2TP and torrenting
Anonymity
Safe and secure anonymous torrenting
Evade DMCA notices and copyright trolls
Pure VPN maintains a zero activity logging policy
If you're going to download from P2P networks and torrents in Australia then you have to be aware of the potential consequences. While copyright laws are overreaching in most areas, they are particularly bad in Australia where the government has launched a war against piracy. Accessing pirated content in Australia comes with a very real risk of being sued.
ISPs in most countries are legally required to block access to piracy sites and their associated domain name as well. Please accept that using torrents within Australia is done purely at your own risk and should never be done without the privacy and security offered by a VPN.
Kodi is one of the most popular streaming solution because it provides an open-source platform for watching any kind of content online. The problem with the service is that it uses third-party add-ons to provide the content, whether it's TV shows, movies, documentaries, sports, or anything in-between. This is why it's important to use a service like PureVPN for Kodi.
It's best to access the content on Kodi from behind a VPN such as PureVPN because it keeps their IP address hidden and gives them the anonymity they need to stay safe. This allows them to stay hidden from ISPs and copyright holders who are watching Kodi to find people pirating their content.
PureVPN is a great VPN for Linux. The PureVPN Linux app has a great user interface and provides Linux users with unparalleled online anonymity and security. The good news is that it comes packed with a range of tunneling protocols, similar to the offerings on other platforms.
Linux users can enjoy PPTP, SSTP, L2TP, IPSec, IKEv1, IKEv2, and OpenVPN. The OpenVPN protocol makes use of 128 blowfish encryption, AES 128 and AES 256 bit military-grade encryption. With the OpenVPN protocol, users can expect the highest level protection to keep their Linux device safe.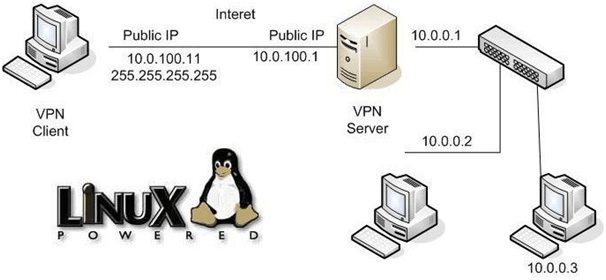 Privacy Policy and Security
PureVPN is based out of Hong Kong, which is an ideal location for a VPN company. Hong Kong-based VPNs are not legally required to keep logs and are kept away from the prying eyes of security agencies such as the NSA. It's hardly a surprise that after leaking NSA information Edward Snowden fled to Hong Kong. This means users can expect a degree of privacy and security when using PureVPN.
While PureVPN doesn't keep any usage logs, we're sad to report that they do keep connection logs. There's no need for them to do this because they aren't legally required to so we don't understand why. As is the case with other VPNs though they don't keep logs of the websites you access and what you do while the VPN is active. As per their privacy policy:
"We Do Not monitor user activity nor do we keep any logs. We therefore have no record of your activities such as which software you used, which websites you visited, what content you downloaded, which apps you used, etc. after you connected to any of our servers."
They do, however, collect information on things like when you connect to their services. Once again, a look at the privacy policy:
"Our servers automatically record the time at which you connect to any of our servers. From here on forward, we do not keep any records of anything that could associate any specific activity to a specific user. The time when a successful connection is made with our servers is counted as a "connection" and the total bandwidth used during this connection is called "bandwidth". Connection and bandwidth are kept in record to maintain the quality of our service."
This could hardly be called not keeping logs. Most people might not be concerned about this but they should be because it opens up the potential for an end-to-end timing attack. In fact, one PureVPN user has recently arrested thanks to the information kept on the connection logs stored by PureVPN.
The most surprising thing about the arrest is that PureVPN voluntarily handed over the logs to the FBI even though the FBI had no jurisdiction over the Hong-Kong based service. Even if the user was doing something terrible, the handover is still a clear betrayal of trust. The incident was so damming that PureVPN has stopped claiming to never keep logs.
PureVPN Support System
There are four layers to the PureVPN support system. These are support tickets, FAQs, a forum, and live chat support.
Support tickets at PureVPN can be opened for technical support, billing problems, and complaints of abuse. These tickets can also be used to request assistance for reseller support and corporate plans. We tested the support ticket system for ourselves and were pleased with the results; both in terms of how quickly we got a response and the answer to our "problem".
The Frequently Asked Questions/FAQ section of PureVPN offers detailed answers to the most common questions related to payments, technical problems, router-based VPN connections, and software questions.
PureVPN has an extensive forum where users and support staff alike get together to help anyone with a problem.
The crown jewel of PureVPN customer support is the 24/7/365 live chat support. This support option is operating around the clock and there's no dealing with bots. Live chat provides customers with instant responses to their concerns and queries. It takes just moments to solve minor and middle-sized problems. Problems concerning setting up PureVPN and troubleshooting problems are handled quickly, while problems related to user accounts can take a little longer to solve.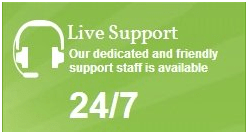 PureVPN deserves top marks when it comes to customer support as customers can be sure that someone will always be on hand to help them deal with issues. While their support staff could be a little better trained, they're still miles ahead of other VPN service providers that expect customers to deal with limited choices and ignored emails and tickets.
PureVPN: Plans, Pricing Payment Methods, refund policy
PureVPN offers remarkable value for money, as long as you're willing to make a long term commitment anyway. A three-year subscription to the service works out at just $1.49 USD per month (an upfront cost of $69.48). A monthly subscription to PureVPN costs $9.95 per month, which is about the average cost of a VPN.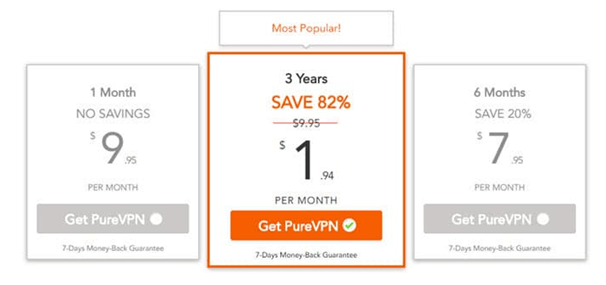 PureVPN connects with a range of different payment providers, offering dozens of ways to pay for their services. Payments can be made through credit cards, debit cards, PayPal, CashU, AliPay, and through gift cards. PureVPN also allows for cryptocurrency payments through their partnership with PaymentWall.
Making a payment through cryptocurrency or gift cards allows users to anonymously pay for the service. Do keep in mind that PureVPN will still be aware of your real IP address, just like any other VPN. Using an anonymous payment platform such as gift cards and cryptocurrency also means you won't be able to claim your money back if you run into a problem.
PureVPN subscriptions are sold with a seven-day money back guarantee. Unfortunately, there are some people who claim that they never received their refund, however, so be careful about trying to claim one. There are also the occasional reports of double charging and other similar problems.
As well as offering these personal plans, PureVPN offers business accounts, making it an ideal choice for a corporate VPN. There are three different packages available for businesses, meeting the needs of any sized business. The three plans in question are the Silver, Gold, and Platinum packages. Small businesses should choose the Silver Plan which offers 5 VPN accounts, seven protocols, and 5 dedicated IPs for $69.70 per month.
It's remarkable for a VPN provider to stand out as a business VPN but PureVPN managed to do just that. The Gold Plan is good for medium sized businesses, offering 10 VPN accounts, 200 sessions, and remote access that allows employees to access data remotely through secure channels. The Gold Plan costs $114.45 per month.
The Platinum Plan is the best business VPN from PureVPN. With the Platinum Plan a business can enjoy 15 VPN accounts, 10 dedicated IP addresses, and the ability to conduct business privately and securely. The Premium Plan is available at $177.25 per month.
If none of these business accounts match the needs of your business, then check out the custom accounts. If you need DDoS protection from a VPN and other add-ons, then check out what PureVPN can offer you and your business.
PureVPN Free Trial
One of the weaker aspects of PureVPN is that there is no free trial available. This is likely because of the money back guarantee, which effectively works as a "free trial". While there is no free trial, there is a paid trial option. Users can access the service for three days for a non-refundable cost of $2.50. This is enough to try out the service and see what it can do, but it hardly feels like good value for money given that a month of access costs $9.99.
Pros and Cons of using PureVPN
Pros
It's hard to argue with the value for money PureVPN offers with prices starting out at just $1.91 a month. Even if you don't want to put down the high upfront cost for that plan, the basic monthly plan remains good value for money at $9.99 a month. The prices for the business plans seem a little steep, but even they are a good value given what they provide a business.
With over 790 servers spread across 141 countries, users have access to over 80,000 potential IP addresses. Users have total freedom to do anything they want from any country they want. PureVPN has one of the best server spreads on the market.
PureVPN is packed with extra features including an internet kill switch and a NAT Firewall. The kill switch will protect you when something goes wrong with the internet connection. If you're doing something such as downloading and the VPN goes down then your real IP address and activity can be leaked to the wrong people. The kill switch terminates apps and connections in the event something goes wrong, giving an extra layer of protection.
With the DDoS Protection IP PureVPN offers you can keep your business – and personal devices – safe against DDoS attacks. This protection does come with a price tag of $5.99 extra a month though, so only get it if you need it.
7-Days Money-Back Guarantee
A week is more than enough time to get used to a VPN and see if it is worth your time and money. If you aren't satisfied with PureVPN then be sure to request a refund within seven days and move on to a different, hopefully, better, solution.
Like most VPNs PureVPN makes sure to protect your privacy by not collecting activity logs. Just beware that they do collect metadata logs and these may be enough to land you in legal trouble.
PureVPN allows for five simultaneous logins and connections with a single account. One account can keep the whole family protected online.
Wide Range of Payment Options
With over 50 different payment options including debit card, credit card, cryptocurrency, and gift cards, PureVPN has one of the largest payment option selections of any VPN service on the market.
PureVPN is compatible with just about any device and operating system you can think of, and has dedicated apps for different devices and operating systems. This includes Linux compatibility, something some VPN service providers are still struggling with.
P2P file sharing such as torrenting is one of the main uses of a VPN. PureVPN has servers dedicated to P2P. These servers offer solid upload and download speeds and complete anonymity to keep users safe from the prying eyes of ISPs, government organizations, and copyright trolls.
PureVPN works with just about every protocol around, including PPTP, OpenVPN, SSTP, L2TP/IPsec, and a stealth VPN protocol.
Works with Netflix and BBC iPlayer
With the help of the browser add-ons, PureVPN users are never very far away from their favorite content on Netflix and BBC iPlayer, no matter where in the world they are.
Cons
While PureVPN offers a money-back guarantee and has a paid 3-day trial, it would be much better if they simply offered a free trial. No one should invest money in something without getting the chance to test it out after all.
The refund policy at PureVPN says that refunds can be claimed for up to 7 days. It would be nicer if the "trial" period was a bit longer in our opinion. There's also the issue that some users have had trouble getting their refunds.
PureVPN may not collect usage logs but it still collects some collection logs. This is a major strike against the service because there's no reason for them to do this. The recent case of someone being identified and arrested from these connection logs makes their collection an even bigger problem.
Conclusion
Despite a few flaws here and there PureVPN is just that; a pure VPN. If you don't want to shell out too much money for privacy and security then this is a good choice for you. PureVPN offers a great spread of servers and fantastic customer service. The client is user-friendly and PureVPN is compatible with almost every device. PureVPN has just about every feature you may need out of a VPN, serviceable speeds, a no-logging policy, and dedicated servers for file sharing and accessing US Netflix. That's why it gets our seal of approval.