TorGuard is the Best VPN Option
Do you want an above average Virtual Private Network that is well respected and highly subscribed? TorGuard is the best option for you. I have heard many people confuse and say that Torguard has a close relationship with TOR proxy server. However, despite the name, this VPN has no association with TOR or any other proxy service. This VPN was essentially made for torrenting but with time, it has grown to a bigger global VPN service that is gaining popularity day by day.

It is a Nevis, West Indies-based Company that was launched in 2012. Through the site, the company claims that the TorGuard has over 1250 servers in more than 42 countries around the globe. The servers have multiple endpoints in each location. Some of the countries where TorGuard has servers are;
Canada
United States
France
New Zealand
England
Australia and many more.
For a more complete list, visit the FAQ section on the website.
The other thing that is good to note is that hooking the VPN's raison d'etre to torrenting may raise concerns because the technology is often used to unblock the content and download Copyright media from a P2P network. The good thing is that TorGuard offers something more than just extra layers of technology for torrenting alone but also for all types of data transfers. I bet this is one of the selling points for anyone concerned about being charted.
There are servers in more than 50 countries in the world. This is what gives people more than enough choice for bypassing barriers, unblock websites and also bypassing censorship. The TorGuard provides a reasonably priced VPN Service which has speed connectivity and great customer care services.
Rating
After studying all the features and several tests on the performance, speed, and many other aspects, we found out that TorGuard is rated 9.5 out of 10. It is also ranked as the 14th out of 74VPNs. Based on the ratings and the comments of the regular customers, you can be sure that a greater number of them have not regretted buying the subscription. The few who have complained usually had their personal experiences maybe due to incompatibility and operational problems. The TorGuard is rated among the top VPNs in terms of providing security and performing its tasks.
After an hour of researching on the user satisfaction, we found a small number of users who were dissatisfied with the VPN. Their only problem was found on the interface. For this reason, we believe that the support company should put some measures to ensure that the interface is user-friendly. My humble opinion is that TorGuard is a very reliable VPN that will not disappoint you at any cost.
Servers
TorGuard holds a special place in the industry because of the availability of its ser4vers in so many locations. It has more than 3,000 servers which are located in more than 69 different countries. The other thing that you should note is that TorGuard has more than 5,000 IP addresses. This is what provides its users with the ultimate anonymity and the much online freedom they have.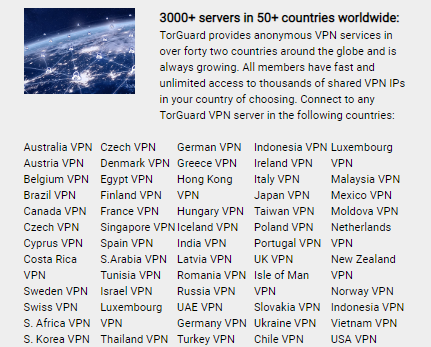 The only thing that I was unsatisfied with is the reality that Torguard doesn't provide dynamic server switching. This is what the majority of people thinks that the company let us down on. However, the great features available proves that TorGuard is still the best option.
The TorGuard's server network includes the ones in Saudi Arabia and China. Why servers are sited in China and Saudi Arabia is that these are some of the countries with a lot of laws restricting Netflix usage. The reality that servers are already located in the specific countries to ensure that there is the accessibility of the restricted contents at home. These servers provide shared IP services. The dedicated IP address are found in the US, Canada, Italy, Germany, Finland, Australia and Japan.
Currently, the company is working to expand the server coverage and ensure that they can provide the services in even more countries in the world. The good thing with TorGuard is that it knows how to deal with all the issues on the internet. What this means is that after receiving the package, you will not have a hard time dealing with anything else. It will know how to connect to the servers and how to keep the work done for you.
TorGuard Speed Test
A good VPN should provide all the services at a very high speed. We subscribed to a Premium package just for the purpose of determining the VPN's speed. We also ensured that we have a 100 Mbps internet connection to ensure that the speed is not tampered with by the low internet connectivity. After we had signed in for TorGuard, the download speed was 54 Mbps and the upload speed was 50 Mbps.
We also ensured that we have retested a couple of times to get more accurate results. Each of the time we were connecting to a different server location but the most surprising thing is that the results were almost the same anyway.
From the statements above, you should have already realized that a lot of bandwidth is being lost after connecting to TorGuard. Let's leave that and focus on the brighter side of it. I usually think that an average speed of 50 Mbps is a very decent speed for a VPN. The speed is decent enough to support uninterrupted browsing and flawless streaming.
There are several other tests carried forward to determine whether TorGuard has any relationship with a slow connection. The results of the tests proofs that the reality of the matter is that the throughput speed that is offered with TorGuard is decent enough to speed up a slow connection. The good thing is that VPN can help you get around some of the restrictions such as throttling. Throttling happens when you get poor connections when browsing simply because your ISP is restricting the bandwidth allocated to the services.
Interface and Set-up
If you have paid a look on this, then you can be sure that the set-up is quite easy. There are several options that you will have to follow after paying for the subscription. The first thing that will come forward is the request to select any of the servers based on the location and the need. As we had already put forward, you can use the TorGuard services in up to 5 devices. This means that you can secure all your household devices including the mobile device and the computers.
Compatibility
The other aspect that we had to investigate is the device compatibility. Considering the increase in the number of devices that are used to perform daily tasks, you need to bear in mind that compatibility with several devices is a plus. Luckily, TorGuard is one of those dominant VPNs in the industry that is compatible with different devices. It is compatible with all the leading OS. What is trying to mean is that it is compatible with all the versions of Windows, iOS, and other Operating systems. Currently, the TorGuard is compatible with a lot of devices. It is compatible with the following devices.
Computer both Apple, Mac OSX, Linux and Windows.
Mobile both Android and Apple, iPhone, iOS.
Routers both DD-WRT and Tomato routers.
One of the best aspects of TorGuard is its compatibility. You can configure the TorGuard for Linux using the tutorial that is provided by the VPN Service. However, you have to note that there is no app or software that is offered by the service for the Linux operating system.
Protocols and Encryption
The TorGuard provides the below protocols.
PPTP
L2TP
OpenVPN and SSTP.
However, you are supposed to know that TorGuard doesn't keep any logs of your online activities. For this reason, you can be sure that you will stay anonymous and also be sure that the confidentiality of your information goes on no hand. Among all the above protocols, we recommend OpenVPN because it gives you maximum privacy to your data.
Features of TorGuard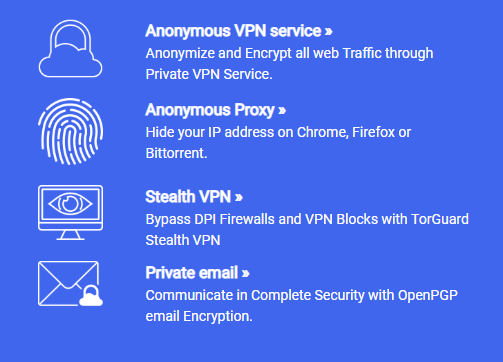 The good thing about the development team is that they insert and include new features in every new TorGuard Versions. The company is always into implementing new security option, optimizing the connection speed and also adding new stealth VPN features. What am trying to say is that every coming Torguard version has something that you should consider using if you want the most secure VPN on earth. If you want to gain access to the best VPN features, then you should be using the latest and the best Versions of TorGuard. The latest Torguard version comes with the best features on earth as discussed below
Masked IP or the Anonymous IP is a way through which someone can visit an Internet Protocol without leaving any traces of their visit. Just bear in mind that the internet is not the way it used to be some time back. What am trying to mean is that there are a couple of limitations and dangers lurk online. This means that if you want to keep accessing the Netflix content or even downloading content on the Internet without risking being punished, you need to browse without leaving a trace of your identity.
With TorGuard VPN, it is quite simple to hide your VPN. I usually like hiding my IP address so that I will continue getting access to geo-blocked sites. The other reasons include negating IP Bans and just keep reading and accessing without the worry of getting caught.
For this reason, the best and the most convenient ways of changing your IP is to choose TorGuard VPN service. You can see that the benefits of using a good VPN service are the same as those of changing your IP address. TorGuard will assign new VPN to systems connected to them.
In simple terms, torrenting is a process that allows you to download bigger files once you connect to the internet. You have an exclusive opportunity to download Movies, music and all the documentaries on Netflix with this simple TorGuard VPN feature. There are several reasons why you should use TorGuard for Torrenting. However, the first thing to put in mind is that after you have signed in for TorGuard VPN services, you gain access to any blocked content privately. This means that you may want to download some of the contents and watch later. If you want to stay under the radar, you have to start using TorGuard to unlock content and download them through the torrenting feature.
The other reason why torrent users should use TorGuard is that of the users' inability to distinguish between legal and illegal torrent file. One thing that most of the users don't know is that they are being involved in property infringement and that's why they unknowingly come up with questions that reveal they are in fact involved in copyright infringement and by law they can get punished. That is why most of them fear using a tool to bypass the geo-restriction in Netflix. However, with all the features that come with TorGuard.
5 Simultaneous Connections
TorGuard is our top recommendations if you are looking for a VPN which can connect multiple devices. However, you are supposed to connect up to 5 simultaneous connections. Those users who see a connection Limit reached warning in some of VPN can rush to TorGuard because it offers room for more connections. One TorGuard VPN subscription can be used on 5 computers or phones, or iPad, or any other similar combinations regardless of the type.
---
Guaranteed Security
One thing that you should bear in mind is that even the best VPN in the world with the best features is not the best if it is not secure. The good thing about TorGuard VPN is that it has employed some of the most sophisticated technology to help keep your data secure. The first thing is that it supports a wide variety of VPN protocols. What this means is that if you want to switch from one protocol to the other or if you don't prefer using the industry-standard OpenVPN, you have plenty of choices. The other thing is that in TorGuard VPN, you can use AES-256 Encryption which is the industry's standard for stout protection. This doesn't mean that this is the only encryption to use. There are several other choices if you want security. However, in my opinion, I recommend 256-bit encryption because it is the best for staying secure.
The other thing that we cannot underestimate is the ability to completely turn off your internet connection when this VPN is not running. This will ensure that you always have full protection when you are on the internet.
24/7 Live Customer Support
There's only one thing that I hate more than a sucky customer service-Death. The reason why I boycott products in the first few days is if their customer service doesn't come to my rescue when being faced with a problem. The good thing about TorGuard Customer support is that they are usually ready to come to your rescue and offer the needed help when you are faced with any problem. The company offers 24/7 customer support through a call center, support tickets and live chats. Unlike several other companies in the industry, TorGuard offers a 24/7 active customer support and not just a glorified support ticket system.
There are several users who have given their experiences with the TorGuard customer support and the majority of them say that they have had a good time with the customer support. We also decided to test the customer support to see if they are actually responsive. We submitted a generic support query at around 12:00 am to gauge if the company's support team takes a long time to reply to queries at midnight. We were actually surprised to receive an immediate reply addressing our former query.
TorGuard Free Trial Offer
The TorGuard development team are very confident with what they claim to offer. For this reason, they offer a 7 days money back Guarantee. It means that if you are not happy, you can just follow their refund policy and they are going to offer you a full refund. However, if the services provided are satisfactory, then you will settle and continue using the service. You should sign up for the VPN pro Service or the Privacy bundle and not the Anonymous Proxy. What am trying to postulate is that the anonymous Proxy will not encrypt your internet traffic. The VPN will and at the same time increase the privacy.
---
Reliability                                                            
This is another thing that we felt we should talk about here. The TorGuard servers are always up to date and hence you can be sure that the VPN is reliable. I bet you already know that using a free VPN is less reliable because the servers are not up to date. For this reason, you should think of getting a paid VPN such as TorGuard to be sure that you are secure and the connections are reliable. TorGuard has a stable connection that guarantees you reliability, privacy and security.
The other thing is that this VPN offers a proxy extension for Google Chrome Browser which is under the name VPNetworks. If you what to get the extension for free, you can do so by accessing the Chrome Web Store. With this, you get access to over 50 different servers and a couple of port options. If you want to unblock various websites that access is denied or permission not granted, then you can use Torguard for chrome. The first thing that this extension does is that it hides your true IP address and encrypt your browser traffic. One thing that pleased me about this extension is the user interface and the design.
This VPN software that is offered by Torguard for mac well-built and hence easy to use. We tested the software while we were doing the review for TorGuard VPN and one thing that we found very pleasing is the overall performance and the interface. You are just required to select the server you want to connect, the encryption levels and the protocols.
There is an android app for Android which I personally think is dubious and hence the company should put more effort. However, there are several mixed reactions about the app by different users. For this reason, we had to test the service for Android. After the process, we got some similar issues such as those other users were debating about. One thing is that there is no notification or even a message to warn you that the VPN connection has stopped. It also comes with an internet kill switch which becomes dangerous for your privacy and security. The other thing is that just as other users, we experienced problems connecting to the specific server.
The best way to set up Torguard for iPhone and iPad is to download the Torguard application from iTunes. It is also available on the TorGuard download option on the provider's website. After testing for accessibility, reliability and the ease of use, we experienced similar problems as those with the Android app.
---
Plans, Pricing, Payment Methods, Refund Policy
The good thing about this VPN is that it can be purchased on a number of different payment plans. The proxy service costs $5.95 per month and it allows people to use Socket Secure and Hypertext Transfer Protocol/ Secure Sockets Layer proxy on five devices. It can as well be used to gain access to any OS or torrenting client. The proxy service also gives access to 200+ IP addresses in 8 countries.
In addition, you can buy the Proper VPN service at a cost of $11.54. You can as well get it quarterly at a cost of $20.97 or get a yearly plan at a cost of $64.00. I bet you have already realized that the annual plan works at a fee of $5.34 per month and that's why I think that this is reasonable.
You should note that all of the plans provide the same level of service. The point here is that TorGuard rewards people for staying committed for a longer time.

There are several ways through which you can pay for the services. Although you can use Bitcoins, Credit card and other online payment modes, we think that PayPal is the best choice. However, TorGuard offers a vast collection of payment method more than any other VPN service. If you are having trouble using any of the payment methods, there is always an alternative.
TorGuard also offers a no questions asked 7-day money guarantee back plan. This means that you have a chance to test the service without having to worry about your money. Furthermore, you can decide to pay for a devoted IP address and port forwarding. But you have to, first of all, know that these services are pretty expensive. In addition, the Money Guarantee is not available for people who opt to purchase the dedicated IP address. What this means is that once you make the payments, it is nonrefundable. For this reason, it's better to purchase this service on a yearly plan. It seems expensive to purchase it on a monthly basis. If TorGuard entertains you, then you have to make smart choices.
Pros
Lots of encryption protocols and options
P2P
Fantastic and highly responsive customer support
Servers in over 50 countries
Strong OpenVPN encryption for improved security.
Speed connections
Cons
Problem with the Android and iPhone/Ipad TorGuard application.
---
Additional Services
P2P
We cannot close this review without having an eye on those additional services that you are likely to get after purchasing the service. The first one is P2P. This means that TorGuard permits P2P downloading. If torrenting is important to you, then you are covered. There are some of the servers that TorGuard has kept aside and optimized them for Torrenting. This ensures that there are other servers that are left free for faster browsing and streaming. TorGyuard is likely to ask every user to follow the rules and keep file sharing to the following servers; Poland, Luxembourg, Panama, Iceland, Los Angeles, Norway, Miami, Switzerland, Hong Kong, Netherlands, and Canada.
Anonymous Email Service
The other good thing with TorGuard is that it has an anonymous email service which has four different plans. However, the cheapest plan costs $6.95 per month. What you are supposed to note is that you get a free version of the anonymous Email service when you subscribe to the VPN service.
Conclusion
The TorGuard can be a super VPN service especially if you have a modicum of technical expertise. If you want a VPN with a good speed, performance and is highly reliable, the TorGuard is the way for you.