Using the SaferVPN
SaferVPN is a Virtual Private Network (VPN) owned by an Israel-based VPN provider company – Safer Social Ltd. Safer Social Ltd was established in 2013, and they are known for their reliable VPN services. Their website is user-friendly with a neat mix of stylish designs and pictograms to assist customers with their daily network needs. According to the company, this outstanding VPN is one of the fastest, reliable, and easy to use VPN service available in the market. It provides all the essential features and benefits of a standard VPN with improved security, better privacy, better accessibility, and ability to unlock web contents.  SaferVPN offers an adequate connection across over 800 servers, across 38 countries. It initially started with 150 servers in 24 countries but has grown to its current state with a limited period of 4 years. The company also provides 24 hours customer service support to enlighten and assist users of SaferVPN.
The company has a 24-hour  free trial version which has been made available for use without using a credit card. It gives users of this version full access to its services without any limitations. The company only requires a users functional email address and a password. Asides the 24-hour free trial version, SaferVPN also provides other pre-paid services.
SaferVPN allows a maximum of two devices with the premium plan enabling a maximum of five devices. Both packages contain similar features but differ in the number of connections. Its premium plan costs $12.98 monthly but a one year plan reduces it to $9.99 while a two-year plan further lowers it to $5.42 per month.
The various SaferVPN pre-paid packages can be purchased using credit cards, PayPal, Bitcoin, and lots of other third-party payment systems. The company offers a 14-day money-back guarantee its plans.
Ratings
This fast and user-friendly Virtual Private Network is one of the most effective VPNs ever produced. It can unblock Netflix. However, their privacy and security service is pretty shaky and needs some improvement.
Setup and Interface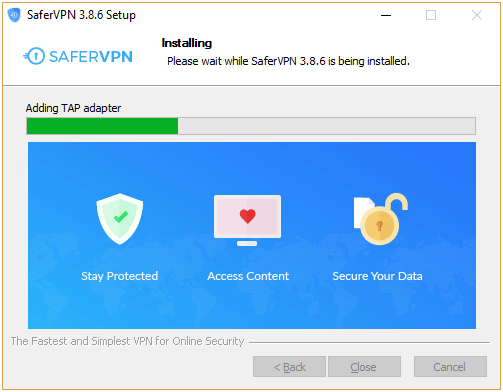 SaferVPN is pretty easy to install and use. This can be seen in its setup process which has a friendly and self-explanatory graphical user interface. Install and log in with your username and password for quick set up process of download. Once you've been granted access, you can easily connect with just a click. This will automatically select any nearby server which we advise you later change to OpenVPN in order to maximize security.
SaferVPN applications
There are two types of SaferVPN; desktop and mobile applications.
Desktop SaferVPN
The application is quite clean with only a few promotional ads which are used to refer friends or upgrade your service despite the fact that you may have had your subscription paid. At the left side of the desktop application is a list of countries, which you can use to pin your favorites. You will not be able to choose a specific region or location in order to bypass a regional blackout as this feature isn't available on the desktop SaferVPN. You can also change the protocol settings in the menu settings if you do not wish to make use of the default automatic connection settings. Here you will also be able to locate the toggles for automatic wifi protection, the startup options, and the VPN termination switch.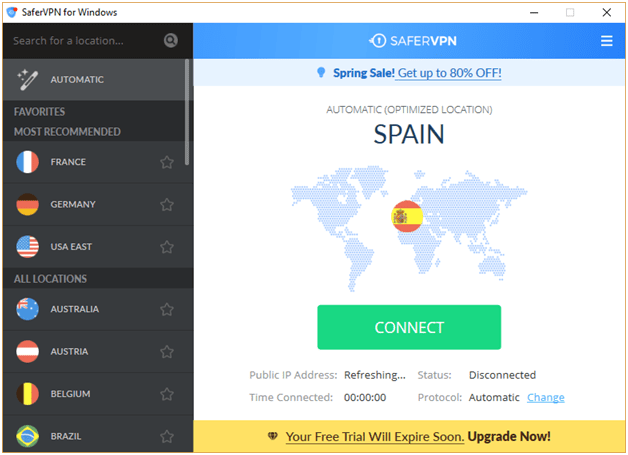 When you terminate the main window, SaferVPN will diminish to the system tray. You can connect as well as a disconnect to some distinct country from the system tray. When the SaferVPN is running, you will get occasional ad notifications from companies advertising their goods and which cannot be turned off. Don't get yourself all beaten up, as this app is very responsive and boots quickly.
Just below the settings menu is button used to test run the speed of the SaferVPN desktop application, its upload speed, and the time it takes to ping one or more servers. If during usage, the app gets stuck after disconnecting it from a server, kindly quit the application and reload again.
Mobile
The mobile app is pretty similar to the desktop application. Similar to the desktop app, the server list is also tucked away at the left-hand corner of the screen while the settings and other account details can be located in the hamburger some three lines below the menu. The app never freezes as it is lightweight.You can quickly determine your country of choice by making use of the search function. Avoid using the "Save logs" option found in the settings as it will give you an error whenever you try using it. There are no promotions or ad placement displayed on the mobile app version of SaferVPN as opposed to its desktop version.
Servers, Servers Page and Performances
SaferVPN operates over 400 servers in more than 30 countries across the world. This is quite encouraging for a service provider of this size. Asia and Europe are adequately covered with some few African and Middle Eastern countries being covered. The United States and the United Kingdom both have dedicated streaming servers in addition to the standard ones which aids in the faster download speeds.
There are no inconsistencies associated with SaferVPN asides the initial problem related to the Chrome extension in which it failed to connect. 1080p 60 FPS video streamedvery fast, but the UK streaming server wasn't quite fast to seamlessly watch 4K 60 FPS video from Lisbon, Portugal. You can play Brawlhalla, a Super Smash Bros-style fighting game for PC, online without any noticeable lag while connected to the same server.
To make the speed tests as empirical as possible, we downloaded the same 82.7MB file from a server in Chicago three times on three different VPN servers at three different times per day for a total of nine tests. We also did the same without a VPN. We conducted these tests from Lisbon, Portugal on a 15 Mbps connection. For both VPNs, we connected two servers in the US–East and West Coast–and one in the UK.
From our analysis, SaferVPN almost maxed out our bandwidth. It is easily one of the fastest VPNs we've tested and excelled no matter the time of day. We most times see speeds like this from new VPN services that haven't had time to amass customers that finally congest the network, but with SaferVPN these results are especially impressive. For high-speed virtual network, go for SaferVPN.
Speed Test
When you are in need of fast and reliable VPN service, you should opt for SaferVPN. SaferVPN is all about speed and simplicity. It's pretty easy to set up and easier for servers and connectivity to be swapped and used without inconsistencies and difficulties. All the servers tested by the company, were all flaming fast, and easily ranking among the fastest VPNs available. There were no options for one to personalize the DNS servers, ports or mystify traffic as these have all been properly taken care. However, the company still needs to privatize its DNS servers and perfect forward secrecy need to be actualized across the board. Advanced users also need to set this option to "limited," though, the option has been properly set for both novices and advanced users for proper functioning.
To experiment its speed test, SaferVPN downloaded a file size of about 82.7MB which was compressed from a 103 MB size from a server in Chicago using three different VPN servers. From the result obtained, it can be seen that SaferVPN had an excellent download speed during irrespective of the time of the day.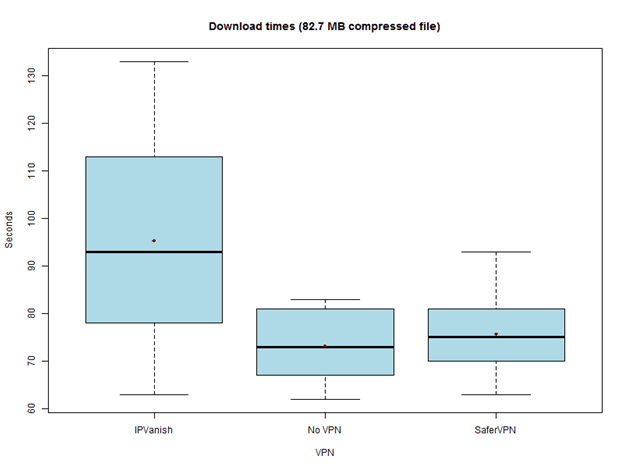 If you are looking for a VPN with high speed, opt for SaferVPN. This VPN has been around for quite a couple of years and its speed is highly impressive.
Compatibility
SafeVPN applications are compatible with Windows, MacOS, Andriod, and iOS operating systems. It has been tested on these various platforms and proven to be highly compatible. It gives access to unlimited downloads, uploads and a tremendous amount of bandwidth. Among all the countries in which SafeVPN is used, Netherlands is the only country that allows torrenting on its servers. However, privacy isn't legalized in this country as the country is known for being complaint to P2P filesharers.
SafeVPN has been designed with an internet kill switch incorporated into both the desktop and mobile applications. Once this setting is toggled on and the VPN connection is unexpectedly dropped, all internet traffic sent to that system will be halted until the connection is re-established.
One of the outstanding features built into the SafeVPN applications is the automatic wifi security.  When this is enabled, your SafeVPN will be able to detect an unsecured wifi network easily and connect to it. This is a pretty cool feature, especially for those who find it difficult in opening their connection through the VPN application whenever they connect to their wifi at the airport, university or At Starbucks. However, in order for this to function properly, you will need to have your SafeVPN app running on a desktop, or in the system tray.
If you are seeking for ways to unblock a website in your browser, SafeVPN is a great app to use.
SaferVPN and Netflix
If you are wondering if SaferVPN is capable of unblocking Netflix, then you should know this – SaferVPN has the capability to unblock Netflix in web browsers. In one of our recent tests using SaferVPN on a US Netflix, our results proved positive as we were able to unblock the US Netflix using SaferVPN. In order to achieve this,set your computer's IPv4 settings in such a way that it will be able to automatically obtain a DNS server. This will enable the SaferVPN application to easily override the default configuration settings of the Google DNS thereby gaining access to Netflix. Users can also connect to Denmark streaming server, Romania, as well as Hungary servers; though you are likely to experience some inconsistencies with the local catalogs of these countries.
Interestingly, this cannot be achieved using Netflix app. This is because SaferVPN does not have what it takes to unblock Netflix on Android as Netflix has the ability to override your device's DNS settings and disclose your location.
 Privacy Policy and Security
It's quite unfortunate that when it comes to privacy and security, SaferVPN tends to fumble. Though the company keeps records of source IP addresses, the IP address it is connected to, amount of data transmitted and other Meta data, it doesn't keep records of any logs of users' traffic. In 2017, it developers restructured it, by eliminating its ability to store users' logs source IP addresses.
The latest 2017 version of SaferVPN protects against DNS leaks. Users should ensure they download the latest version of the application on their mobile or desktop devices in order to take advantage of DNS and IPv6 leak protection. However, certain DNS used in connecting to some servers, belong to Google and are not SaferVPN. It would be better you made use of private DNS servers rather than the public Google DNS, to avoid your DNS requests from being leaked outside of the VPN tunnel.
Use of torrents is prohibited under the company's acceptable use terms, as are several other actions, even though the company directs users to torrent on the Netherlands server.When connected with the OpenVPN protocol, the tunnel uses 256-bit AES encryption, 2,048-bit RSA keys, and SHA256 authentication. Unfortunately, it does not avail of perfect forward secrecy, so if a key is compromised then it can be used to decrypt traffic from past sessions.
One of the wonderful features of SaferVPN is its ability to store the date and time at which you started using it as well as the amount of data you exchanged and consumed during a session. Furthermore, SaferVPN will log the VPN and the country of your location when using their service. However, it doesn't log the websites you visit; the data shared, downloaded, or viewed; or your IP address or DNS queries. They also ensure your account isn't overusing their VPN network.
SaferVPN also stores specific information to prohibit abuse of its network and credit card fraud; making complete anonymity impossible. There are lots of VPN companies that don't keep track any privacy-sensitive data but store this same VPN usage data SaferVPN does.
SaferVPN Support System
A good number of machines are compatible with SaferVPN's service. Windows Operating System, Mac OS, Ubuntu, and Chromebook are some of the operating systems supported by SaferVPN's service with Windows Vista being the only exception. The same is applicable to mobile devices. It is compatible with iPhone, iPad, Android applications, Windows Phones (8.1), DD-WRT and Tomato Routers. It is essential to note that even though the safety protocols OpenVPN, L2TP and PPTP are available for usage, a good number of them do not support these three settings at once.
Plans, Pricing Payment Methods, refund policy
SaferVPN provides a clear picture of its pricing, plans, and payment methods. You can also stand a chance to enjoy up to 20% percent discount on a monthly plan, one-year as well as two-year plans for Best Reviews. If you wish to have a feel of its services, you can make use of the 24-hour free trail service which has no limitations. It's a flexible way to do your business, and you can opt for the monthly or yearly plan if satisfied. The monthly plan goes for $9.99, but discounts are given to persistent customers for their loyalty and patronage.
The one-year plan goes for a monthly charge of $5.13; this means that you will be required to pay a sum of $71.90 every year. When compared to the monthly charge of $9.99, you will be saving approximately 40% of your money with a two months free subscription plan. Finally, you can opt for a two-year plan, thereby earning a whopping price reduction of 80%. This is because you will be paying $3.49 per month, which sums up to $83.77 for two-year plan.
Every plan comes with a 30-day refund policy. Therefore if a customer isn't satisfied with a specific plan, they could have their money back with a period of 30 days. The following payment options are however supported: PayPal, Bitcoin, Ecopayz, Mint, Visa, MasterCard, American Express and Discover.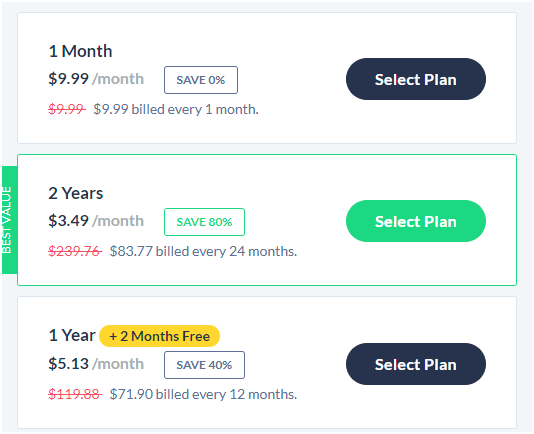 For business customers, there are two plans to choose from: Business and Enterprise. The former costs $10 per month per team member and consists of VPN servers dedicated to your business and its serves can be shared in 35 locations worldwide. All business customers also enjoy the same 30-day money back guarantee just like the home VPN users.
Privacy, anonymity, and trust
SaferVPN maintains some strategic metadata when it comes to service usage. This, therefore, means that it is straightforward about everything contained in its privacy policy. Its features have the capability of detecting how long a user is connected to its service, the amount of data transmitted, the region or country the user is connecting from, the IP address used. However, it does not monitor or log the data sent over its network. SaferVPN's performance and usability are quite encouraging though the various information it retains could be problematic for the more privacy-conscious.
Free Trial
SaferVPN allows you to run a 24-hour free trial to enable you to have a feel of its services. All you need to start is a valid email and password. However, if after the 24-hour free trial, you decide to sign up, SaferVPN accepts PayPal, Bitcoin, and credit cards.
Positive and Negative effects of using SaferVPN
Am pretty certain you would love to have an idea of some of the Pons and Cons of using the services of a SaferVPN. Listed below are a good number of these effects:
Positive
SaferVPN is fast;
It is reliable;
Easy to use cross-platform apps;
Has a responsive customer service;
Makes use of Chrome extension;
And has stellar privacy and security features;
So far there are no cons associated with this service asides its initial security and privacy errors which has been corrected.
Conclusion
SaferVPN is one of the best VPNs for users who wish to own a VPN that works perfectly with the ability to connect your VPN to a public or home Wi-Fi securely. Though pricing is slightly higher than other VPN services in the market, it is generally a good service that is pretty easy to use.
 Am pretty certain you would love to have an idea of some of the Pons and Cons of using the services of a SaferVPN. Listed below are a good number of these effects:
Positive
SaferVPN is fast;
It is reliable;
Easy to use cross-platform apps;
Has a responsive customer service;
Makes use of Chrome extension;
And has stellar privacy and security features;
So far there are no cons associated with this service asides its initial security and privacy errors which have been corrected.