A Transparent Fully Featured Network: PrivateVPN
Whether you want to avoid censorship, utilize private file sharing, or enhance how private you are online, there are many reasons to utilize a private virtual network. However, because there are numerous available, it can be difficult to know which one to choose. This article is going to outline and review PrivateVPN, a Swedish virtual private network provider that offers first-rate customer service, uninterrupted twenty-four-hour up-time, and a reasonable pricing structure.
Rating
When stacked up against other providers, PrivateVPN rates extremely well, coming in at a 9.5/10 due to its exceptional performance, 30-day money back guarantee, transparent privacy policy, and dedicated servers. The network can be accessed from anywhere in the world, it has stable twenty-four-hour up-time, and the pricing structure gives users one month, three months, and an annual option at an extremely fair price. In addition to this, it is an excellent choice for those who want to stream as it has fast connections and unblocks BBC iPlayer, opening up Amazon Prime and Netflix. To top it off, there is 24/7 live chat support, mobile compatibility,  six simultaneous connections, and they have a transparent privacy policy that states zero logging of data. But let's take a deeper dive and explore some of these features in depth.
What is the Signup Process Like?
Registration is a breeze. All you need to do is navigate to the main website, click the "Pricing" tab and choose the plan that best suits your needs. Create an account with an e-mail address and password and then pick your payment method and hit submit. Once the payment has gone through and been verified, you can begin using the VPN on your Windows, Mac, or mobile devices.
A Worldwide Connection: Servers and Status Page
PrivateVPN provides users with worldwide service. There are over eighty different server locations in fifty-six different countries, making it very easy for those traveling to access the websites they want. Any user can connect through any of PrivateVPN's locations, and are able to change server locations at any time. Unfortunately, some restrictions still do apply for connection in countries like China, who block all connections with a firewall. In addition to having server locations listed on their website, they have a server list which denotes the server address, port, and type of proxy. The server list provides us with some extremely informative information about what type of servers PrivateVPN utilizes. Currently, they offer OpenVPN (UDP and TCP) as well as Socks5 and HTTP Proxies. This gives users a ton of choice when it comes to choosing which available protocol to use.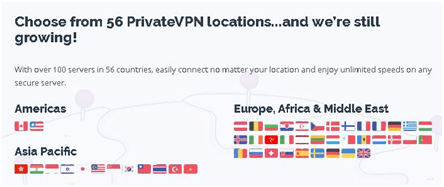 PrivateVPN also offers high-quality network servers which derive their fast connection speeds from the fact that there is no "middleman". PrivateVPN purchases internet capacity directly from the IP transit provider, ensuring that users get the fastest available connection. See the next section below for a more in-depth look at speed performance!
With regards to server status, if you are the type of person who likes to keep tabs on the status of the services you use, then the blog area is where you want to go for PrivateVPN. The blog section is split into business, entertainment, guides, travel, VPN App. VPN Service, and the website. The VPN Service category will notify you of any service downtime and service upgrades. All of their blog posts appear to be well written and are quite informative when it comes to the instructional guides. The website is available in English, Dutch, French, and Swedish.
How Does PrivateVPN Rate With Speed Performance?
This is one thing that a lot of users ask about when considering private virtual networks. When tests were done on PrivateVPN's OpenVPN protocols, the results were some extremely impressive numbers. The download tests came out averaging anywhere from 20mbps to 35mbps whereas the upload tests came in at 2mbps to 3mbps. Over the course of a seven-day server test, PrivateVPN had a 60.23 MBit/s average. What was astonishing though was that there were no DNS leaks, no WebRTC leaks, and every visible IP address check came out to the chosen location. This is excellent considering that PrivateVPN has no built-in protection system.
PrivatVPN Compatibility
This is where PrivateVPN steps away from the crowd and makes itself unique. In addition to offering users an intuitive Windows and Mac client software, they also offer user-friendly cell phone applications. Currently, the software is for:
MAC:OSX
Windows:7, 8, 8.1, and 10.
IOS VPN: for iPhone and iPad versions that are 9.0 and later.
Android:For 4.0 and later.
The windows/mac client download is very straightforward. You download the software from the given link on the website, sign in to your dashboard and go from there. You can see your dashboard, your billing area, your settings, and the connection guard section. The windows client gives users the ability to toggle their own protocol options and features DNS protection. The connection guard section gives users the ability to have a fail-safe kill switch, ensuring that internet traffic does not enter or leave your personal computer when the VPN is not enabled. The client is incredibly easy to use due to its simple one-click setup process.
If you need help with the setup process, PrivateVPN does offer detailed guides for each platform. This is great for those who may not be technically savvy, or for those who want to install and use the software on multiple devices. There are even guides for those who are running Linux or need a setup for different routers.
Mobile Application Options
The free IOS application can be downloaded via iTunes and is available for both iPhone and iPads running 9.9 or better. Using and downloading the software is as easy as the desktop versions, with a simple one-click setup process.
The Android application can be used with 4.0 or later and is available on the Google Play store. For those who don't want to download it from the Google Play store, you can also use an APK file.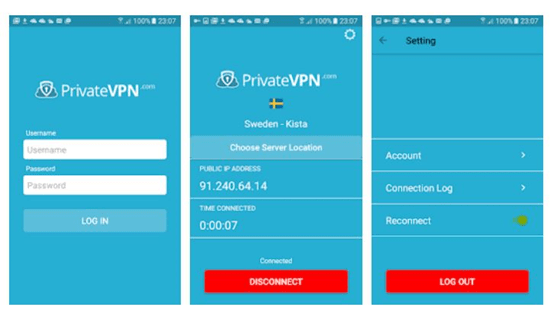 To use either of the above options, head to the iTunes or Google Play store and download the free application. After signing up through PrivateVPN's website, choose a service plan that meets your needs from the tiered pricing structure. Then open up your application, sign in, choose one of the server locations, and begin using the VPN.
If you need help with any of the above steps, PrivateVPN does offer a downloadable support guide, offers remote help, and can be contacted via their contact form or through the online live chat option.
When using both the Android and the IOS applications, no DNS or WebRTC leaks were detected.
Protocols and Encryption
Encryption is a huge part of what makes virtual private networks so popular among internet users. An encryption system protects the digital data that gets stored on your devices by keeping the data private from third-parties, internet service providers, surveillance programs, and hackers. The protection comes in the form of data conversion, where electronic data is converted into cipher-text, making it unreadable to unauthorized parties.
PrivateVPN has a large number of protocols available including OpenVPN (with UDP/TCP or over UDP/TCP), L2TP with Ipsec, L2TP, Ipsec, PPTP, and IKEv2. Here is a breakdown of what these are and what they offer:
OpenVPN TCP: this is one of the most reliable currently available. It can prevent cyber-attacks, protect your data, prevents against website failures and incomplete download errors.
OpenVPN UDP: this is an excellent option for those who want to stream media or play games as it works without interruptions. The only downside is that it does not have error connection which means if a website fails, it goes down.
L2TP/Ipsec: is not a recommended option as the encryption with it isn't very strong. This is what you will find in most mobile devices. When combined with Ipsec though, it offers greater security than PPTP, as Ipsec offers end-to-end security.
PPTP: is one of the oldest protocols around and works well with all systems. It's not a very good choice for those who want to ensure that data is secure and anonymous.
IKEv2: uses mutual authentication making it highly secure and is recommended for new mobile devices.
In addition to the above protocols, PrivateVPN's servers use military-grade "AES (advanced encryption standard) 256-bit encryption code with 2048-bit DH key"(PrivateVPN, Encryption)ensuring a secured connection. If an individual wanted to hack this encryption to access your data, they would need what PrivateVPN calls an "astounding number of distinct combinations – 2 to the 256th power," in order to hack the files.
What Are The Available Security Features?
PrivateVPN utilizes a kill switch in their software so that if the VPN connection is ever lost, the internet gets cut. This is extremely important for those who do not want their web traffic accidentally leaked to their internet service provider. The kill switch feature has two layers to it, the second being an application kill. Thus, users can decide whether to go with the kill switch for if VPN connection is lost, or they can completely kill the application if they wanted at any given time.
For users who are extremely tech-savvy, a remote installation feature is available for remote control. If at any time a user needs help with setting up their VPN, the remote installation feature gives the PrivateVPN support technician access to the subscriber's machine, allowing for VPN setup. This feature can also be used for maintenance through TeamViewer software.
With All These Protocols, Can PrivateVPN Be Used for Netflix?
Unfortunately, a lot of users are only able to watch 30-50% of Netflix's entire catalog of titles as the selections are split into different regions. This means that those who view Netflix in Canada will have a smaller selection of options than those in the United States. This goes the same for those in the United Kingdom versus those in Sweden. This is called geoblocking and is routinely used by streaming services like Netflix. The below grid showcases the percentage of the blocked US catalog in countries like Sweden and the United Kingdom.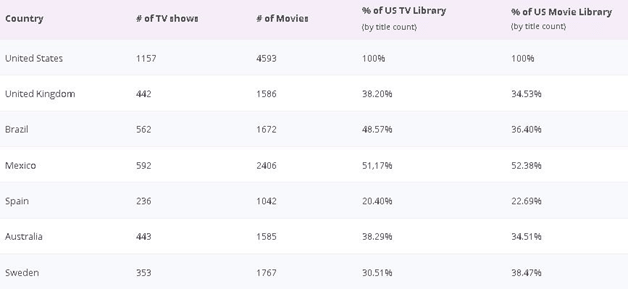 Luckily, PrivateVPN has its own custom-built VPN option for Netflix, allowing you to unblock the entire US catalog of Netflix titles. Plus, you can enjoy your home country's Netflix while traveling, stream in HD without buffering, switch to any Netflix region on the go, access other geo-restricted services (BBC iPlayer), and use public or private WIFI overseas without sacrificing privacy.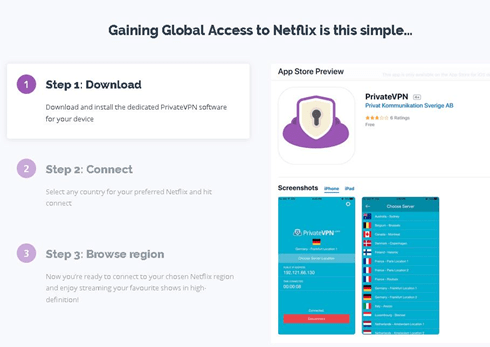 How Private Is My Information?
PrivateVPN has a zero logs policy which means that it does not keep any of your private information, nor does it store it anywhere on its servers, and it does not log traffic data. The only thing that PrivateVPN does store is the e-mail address that you provided upon account registration. Unfortunately, this does not apply to potential session data, connection times, bandwidth used, or IPs.
Sweden is not necessarily the best country for VPN hosting as it does have data retention laws that require all internet service providers to retain user data for six months. This user data can include websites visited as well as login times and e-mail logs. Sweden also has an anti-copyright policy law (IPRED) which permits copyright holders to have Swedish internet service providers reveal personal information on users who are under suspicion of copyright infringement.
PrivateVPN says that they get around these laws by having full access to their own data center, own all of their hardware, and does not store any information. When pressured by authorities, PrivateVPN has nothing to provide them as they have no customer information stored. This is a huge plus for users who are looking for complete privacy protection.
What Does The Support System Look Like?
PrivateVPN goes above and beyond in comparison to other providers in that it provides 24/7 live chat support. When talking with a chat representative from PrivateVPN, it was asked if their live chat was truly 24/7 and they stated that generally it is up and live but may be down during "sleeping hours" in Sweden. When asked to further elaborate on this, they stated that chat is usually down for about three hours on average every day. However, if the chat is unavailable, there is a contact form that can be used and support staff is working around the clock to ensure that service is available.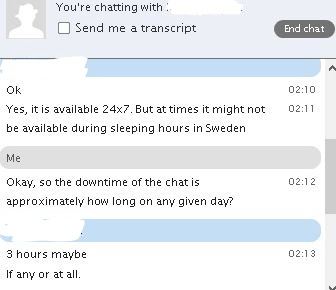 In addition to the live chat and the contact form, there is a support section on the website that is jammed packed with frequently asked answers and questions and a getting started area. The getting started area is full of step-by-step guides which walk you through each available platform, the application, and the various protocol setups. These step-by-step guides are available for Windows, MacOS, IOS,  Android, Routers, Linux, Proxy, and Miscellaneous. The kicker though is that every step-by-step guide has an associated video walk-through, perfect for those who don't like reading through numerous steps and would rather listen and have a visual aid.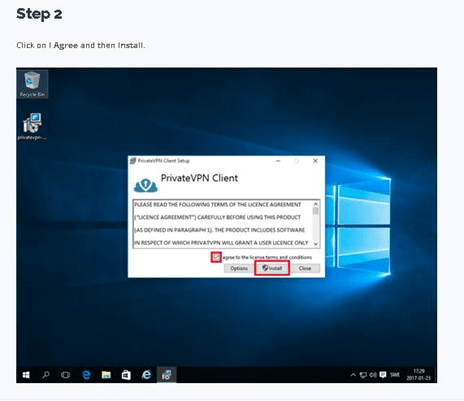 If the above wasn't enough, there is a blog section which has multiple resources for those who want to learn more about keeping internet browsing private, watching Polish television, how to use the BBC iPlayer outside of the UK, how to use American Netflix in Canada, and even how to stay secure on public computers. The blog is broken down into several categories, making navigation super simple.
How Much Does Each Plan Cost and What is the Refund Policy?
The pricing plans are very reasonably priced, are broken down into three options, and come with 24/7 customer support, 30-day money-back guarantee, high-speed unlimited bandwidth, and all PrivateVPN applications. Like most subscription tiered pricing, the more you buy in bulk, the more you are rewarded. This is the case with PrivateVPN, who has a one month, three months, and twelve-month pricing structure. As of right now, there is a special deal going on which gives you an extra month when you buy the twelve-month option. The breakdown is as follows:  one month is $8.21 per month (25% savings), three months is $5.63 per month ($16.88 billed with 48% saved), and twelve months is $4.15 per month ($54.00 billed with 62% saved).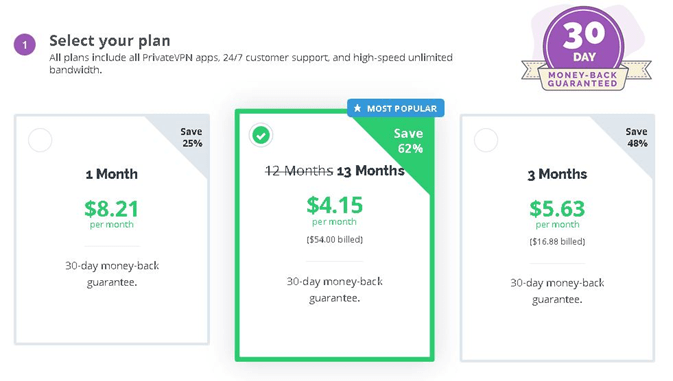 Payment Options + Free Trial And Money-Back Guarantee!
The payment options include all large credit cards, PayPal, Payson Direct Back Transfer, Stripe, and Bitcoins. According to PrivateVPN's FAQ section, you can test PrivateVPN out for seven days for free by e-mailing [email protected]. You will receive a gift code which counts down as soon as your account is registered.
In terms of refunds, there is a 30-day money-back guarantee, however, this only applies to new customers who choose to cancel before the end of their subscription (by the 30th day). Refunds are processed within five business days of the cancellation confirmation date.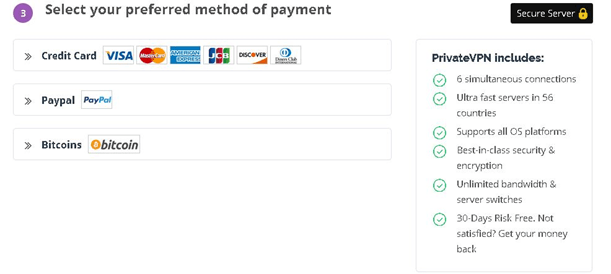 PrivateVPN does have a referral program which allows you to earn free days of service for your account. Simply refer your friend by clicking on the invite friend icon in the control panel page, or have them enter your unique referral code. For every referred friend that purchases a new plan or continues an existing one, you earn points. One month gives you 100 points, three months gives you 250 points, and one year gives you 1,000 points.
What Are The Pros and Cons of Using PrivateVPN?
In terms of the pros and cons of PrivateVPN, there's very little to groan about! The only two negatives that can really be said about the company is that there 24/7 support isn't available as completely 24/7 as the live chat does go down for a few hours every day. Other then this, the only other thing is that they could have some more servers available. Luckily, PrivateVPN is growing quickly, so it is likely that more servers will be added in the future.
As for positives, there's a lot to be said.
The website is clean, transparent, and does not make any bold claims,
The live chat is responsive and incredibly friendly,
The interface of the website, mobile applications, and downloaded software is user-friendly,
Is compatible with all major operating systems and devices,
PrivateVPN has dedicated servers,
Unlimited bandwidth and impressive speed levels,
Military-grade AES-256 bit encryption keys,
7-day free trial available,
Zero data logs kept,
30-day money-back guarantee,
Reasonably priced tiered pricing structure,
In-depth support center with fully-featured step-by-step guides,
Comprehensive blog section filled with informative articles,
Security features for tech-savvy enthusiasts,
Multiple payment options,
Numerous available protocol connection points,
Decent referral system.
The above positives are the reason why PrivateVPN gets such a good review and rating.
Our Final Verdict
In addition to having a 99.98% uptime, PrivateVPN has served over 44K customers and has protected thousands of terabytes of user data. Over the last few years, the company has created a top-notch service that rivals other top-tiered networks. From the fast connection speeds from tier one servers to the military-grade encryption service, to the ability to toggle between protocol options, ensures that subscribers are getting an excellent service. Plus, being able to port forward, have an auto-reconnect and a kill switch feature is an added bonus. With the 30-day money-back guarantee, seven-day free trial, and referral payment system, there really isn't a reason to not try PrivateVPN out.